Wet and not so wild
Playing with water is always fun. Splashing, spraying, pouring, rinsing. It feels good, it sound good and it's messy. What's not to love? So, if you want to get the kids involved in the kitchen, let them do the water-based tasks. From rinsing the salad to washing up, the kitchen is a treasure trove of constructive water games.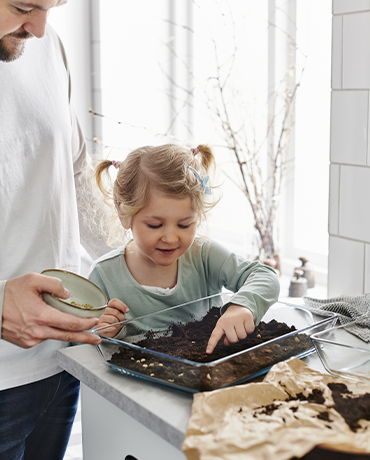 Let them reap what they sow
Growing sprouts is a great way to teach kids about the cycle of life. And if you're going to do it' why not go of life. And if you're going to do it, why not go all-in? An oven dish makes a great seed bed because it holds a lot of seedlings and it can be used time and time again.



Under supervision, but not under your feet
If you have the space, why not create a kids' corner in the kitchen? A few chairs, a table and some wall storage - all the right height - will give them a place to play while you get on with the serious business of cooking.